Toys "R" Us Inc., the ultimate toyland for a generation of postwar baby boomers, filed for bankruptcy thanks to a crushing debt load from a buyout and relentless competition from warehouse and online retailers.
The retailer, which has 1,600 stores in 38 countries, said its hand was forced after an attempt to restructure out of court sparked a press report about a potential bankruptcy, spooking critical vendors and credit insurers. But it intends to make the best of the situation and revive its business in time for the holiday shopping season.
"Chapter 11 was certainly not the company's preferred outcome," Chief Executive David Brandon said in a court filing. "The timing of all of this could not have been worse." He cited the immediate need to build inventory for the holiday season, which accounts for 40 percent of annual revenue. Thanks to a new $3.1 billion operating loan, the company plans to stabilize operations and reopen supply channels while in bankruptcy, he said.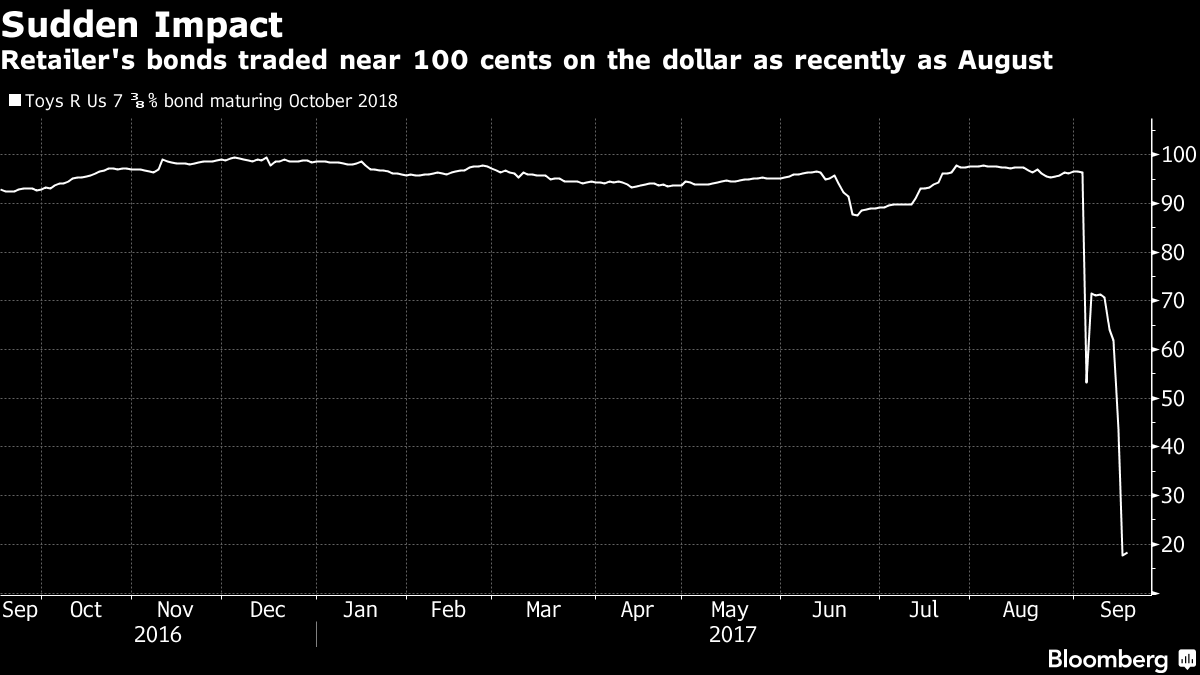 The filing is the latest blow to a brick-and-mortar retail industry, which has seen a string of bankruptcies from Payless Inc. and Gymboree Corp. to Perfumania Holdings Inc. Chains are reeling from store closures, sluggish mall traffic and the gravitational pull of Amazon.com Inc.'s lower costs and global home delivery. More than 10 percent of U.S. retail space, or nearly 1 billion square feet, may need to close, convert to other uses or renegotiate rent, according to data from CoStar Group.
'Unrelenting Race'
To compete with Amazon, Target and Wal-Mart, "Toys "R" Us would have needed to slash prices to maintain traffic into its stores, "decreasing its revenue and cash flows in an unrelenting race to the bottom," Brandon said in the filing.
The reorganization will focus on investment in marketing, technology, and an in-store experience that will help it compete in the new environment, Brandon said. The bankruptcy filing in Richmond, Virginia, estimated the company has more than $5 billion in debt, which it pays around $400 million a year to service. 
Much of that is the legacy of a $7.5 billion leveraged buyout in 2005 in which Bain Capital, KKR & Co. and Vornado Realty Trust loaded the company with debt to take it private. Since then, the Wayne, New Jersey-based chain has struggled to dig itself out.
The $3 billion loan, from a JPMorgan Chase & Co.-led syndicate that includes some existing lenders, will fund operations while it restructures the liabilities, according to a company statement. The funding is subject to court approval.
Staying Open
The company doesn't plan to close stores and says its locations across the globe will continue normal operations. It's 1,600 stores, which include Babies "R" Us, are complemented by sales through websites including Toysrus.com and Babiesrus.com.
Operations outside of the U.S. and Canada, including about 255 licensed stores, are not part of the Chapter 11 filing. A Canadian unit intends to seek protection in parallel proceedings. In Australia, Toys "R" Us plans to add another five stores to its existing 39 by Christmas, said Jessica Donovan, a local marketing manager.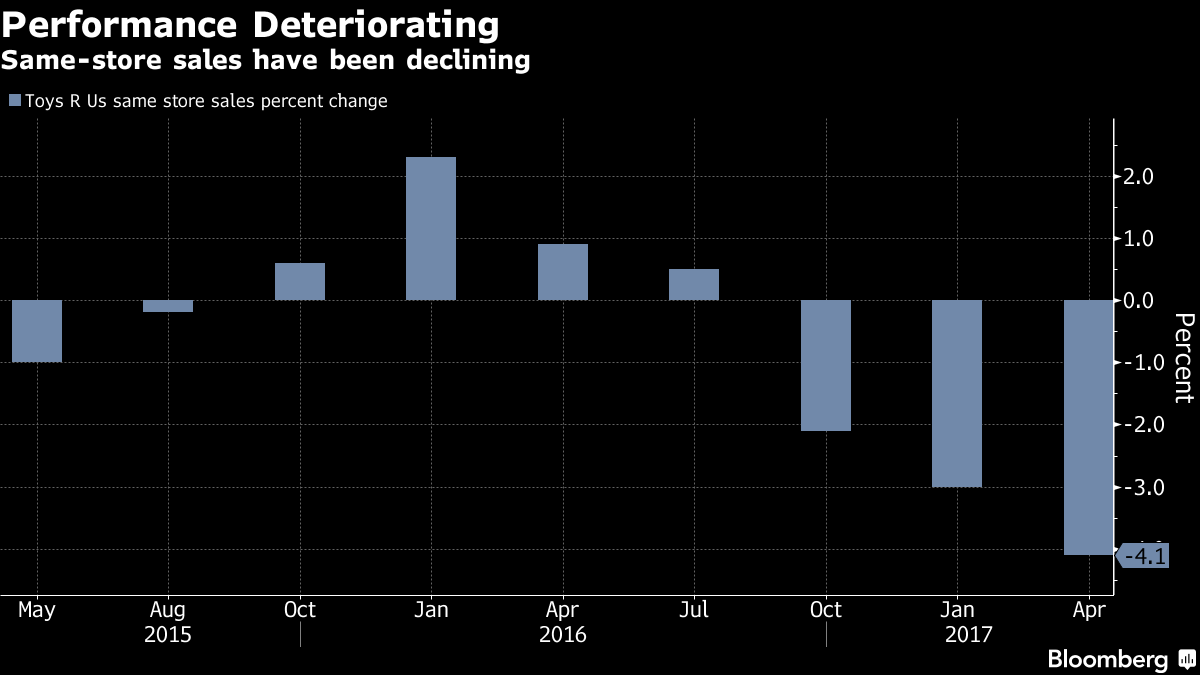 "Like any retailer, decisions about any future store closings – and openings – will continue to be made based on what makes the best sense for the business," Michael Freitag, a spokesman for Toys "R" Us, said in an email.
Mattel Inc., a key supplier, said it stands by the company. "As one of our most important retail partners, we are committed to supporting Toys 'R' Us and its management team as they work through this process, particularly as we approach the holiday season," the toymaker said in an emailed statement.
Dangerous Dominos
While Brandon made some progress in reducing the closely held chain's liabilities, he ultimately was unable to resuscitate its fortunes. He took over Toys "R" Us in 2015 and sought to make shopping there a more enjoyable experience with product demonstrations and the "Hot Toy Finder" to help customers locate items. Last year, he set out a vision of kids "dragging their parents to our stores because they want to see what's going on." 
Beginning in late August, the company tried to tackle its debt load through talks with term loan lenders. A Sept. 6 report that a bankruptcy was being considered "started a dangerous game of dominoes" in which the company lost the confidence of nearly 40 percent of its international and domestic vendors, who refused to ship products without cash in advance, cash on delivery, or payment of all outstanding obligations, according to Brandon's court filing. This meant Toys 'R' Us needed another $1 billion in liquidity.
The company's roots date to 1948, when Charles Lazarus opened Children's Bargain Town, a baby-furniture store, according to the Toys "R" Us website. He added toys two years later and opened the first Toys "R" Us in 1957.
The case is In re TRU-SVC, 17-34659, U.S. Bankruptcy Court, Eastern District of Virginia (Richmond).
More From this publisher : HERE
If you like our content help us with a share… or two …  
Also -  I have some free stuff for you .......
Nr 1. In This FREE Report you can Discover:
Secrets to acquiring the freshest, hottest leads via YouTube In-Stream ads quickly and easily! Best secret tips for the most effective targeting for your ads! Totally legal, but little-known method for literally stealing traffic from your competitors! Get more traffic to your videos and landing pages without spending a fortune! And much more - all within this special FREE report!
Nr 2. Did you know you can Absolutely EXPLODE YOUR EMAIL LIST FOR FREE with UNTOUCHED offline sources?
Nr 3. The #1 secret to becoming an affiliate superstar - Earn your first $100 online – without a dime to invest.
If you're still looking to "make it online – I have just the thing for you. It's a video series that shows how to make your first $100 online – even if you don't have a dime to invest. Yes – nothing.  Free.  Nada. Is this possible? You bet. It's the most powerful system used by those "in the know". Good things don't have to be difficult. And they don't only come to those who wait. Have A Look
Nr 4. Top 10 Email Marketing Mistakes. Which of these mistakes do you make?
Nr 5.  You can learn about : The hottest social networking site that will send an unlimited stampede of traffic to your site - for FREE! How to quickly locate a swarm of hungry buyers using "information portals"! The fast and easy way to use simple images to siphon targeted traffic, on command! Learn how to get the most possible traffic from Instagram, and make sure that traffic converts! And much more ...
Nr 6. It's no secret… Facebook is an incredible place to get tons of free, viral traffic. But… most people are going about it all wrong.  How many of these mistakes are you making? Download the free report to find out.
Nr 7.  Special free report .  It's called "Operation Midas Touch" and you can download it here...
The report features a surefire method for generating at least $1000 per week online,without a website or product of your own!
Nr 8.  Instagram is still one of the hottest ways to get a LOT of traffic fast. All by sharing images. Sounds easy enough, yeah? Well, yes and no. If you want to really start driving a lot of  traffic and making sales using Instagram then you should download this report.
Nr 9.  When it comes to creating a product online there are so many ways to approach it. Wouldn't it be great to just get the meat of it all so you can get started faster? Well, the good news is, today you can download a guide called the Product Creation Formula Quickstart Guide. It's as the title suggests - a Quickstart guide. You'll get a list of action steps to take right away. Download your copy today !
Nr 10. Would you like to finally USE all of that dusty PLR you have sitting around on your harddrive? Or maybe find the resources for the best PLR available - at the best prices? What about how to use that PLR to make you money with just a few minutes of work. Well, you're not going to want to miss this!
  Nr 11. Buzzfeed's top post has more than 21 million views. Think about that for a sec… ONE of their articles has had over 21 million people who have read it! And they have thousands of articles... what would you do with that kind of traffic? A friend of mine hacked their method and was able to use it to get 11,592 targeted new subscribers in 2 weeks on their very first attempt!
Nr 12. Push notifications are one of today's hottest trends in website traffic and conversions, and for good reason. Studies have shown that as many as 40% of people will opt-in for push notifications, which is about TEN TIMES the rate of people who opt-in for emails! That's huge! Not only that, but they're also highly effective at pulling clicks, as well. Some studies have shown CTR at an average of around 40%, with highs of as much as 80%! Again, that's huge!
Nr 13. Would you like to know how to get more money from the exact same number of website visitors you're currently getting? Even if you're website is getting as few as 1-2 visitors a day, this report will show you how to increase your profits using these few handy hacks.
Nr 14. People have now realised that it's not the size of the list which matters, it's the quality. ... and the only way to create a quality list is by launching your own products. Let it be $7 ebooks, $17 info products, $27 video training product or software's... all of these work. My good friend Kevin Fahey has is revealing how he's launched over 20 products in the past 4 years, many of them top sellers. Needless to say he's banked a handsome amount in this time.
Nr 15. Do you ever feel that the man you like or even love, just doesn't see you or desire you in way you want him to? Or... maybe you're able to get a man's attention though not the right kind of attention? Or... maybe you're still single because you wait and wait for men to approach you first? What you may not know is that the way we flirt will either attract the "wrong" man for us or the "right" man.
Nr 16. When it comes to getting sales and leads online, there is ONE thing that 95% of marketers use... it's called a LIST. My friend Jimmy just released a free book that explains WHY a list is important and how YOU can build your own list. It's available right here (and it won't cost you a penny)
Nr 17. If you have tried everything, and still aren't able to get your Ex back, then you need to pay attention.
Nr 18. What if I told you that you could make ANY woman WANT to do ANYTHING for you? Would you think I'm crazy? Well... what If I told you that you could also make her LOVE every minute of it and come back for more?
Nr 19. I have a special free plugin for you today. It's called "Covert Hover Mini"
This plugin will triple your blog traffic by compelling your visitors to share your images on social media. This is some really clever stuff and it works like a charm. After you grab your free plugin, don't  forget to read the free bonus report as it will show exactly how and why this strategy works like crazy.
Nr 20. The days of being able to get away with a basic WP theme and a pic or two are gone, your site needs to look good. Even Google are looking for you to have engaging graphics on your site. But getting good quality graphics made for your site is a pain, AND it will cost you both time and money (if you outsource it). But I have a special free download for you today. A virtual treasure chest of over 21K profit pulling graphics you can start sing today to generate more traffic & sales!
Nr 21. 20 professional full HD background videos. These background videos are perfect for giving your videos that extra kick they need to stand out from the crowd Oh yeah they are in full 1080p HD too, I hope you'll enjoy them.
Nr 22. If you've ever failed to create a WordPress site of your own or typically waste hours & even weeks trying to figure it all out on your own....
Nr 23. No doubt, you've seen all of the video launches lately! There is a reason for it... Video marketing is a GREAT way to make money, and with the recent creation tools making it super accessable for anyone to get started... It's no surprise that more people are making videos. However... there is a missing element to most video marketing products...
Nr 24. For the first time ever... You can get the straight scoop on how someone is selling over $1,000,000/year of t-shirts on Facebook!
Use them  .... and have fun !